Tatiana Bilbao presents En Común
Tatyana Bilbao seeks to understand the place that surrounds us and translates her idea of ​​coming together into architectural solutions. "En Común", which can be described as "together", reveals material, including large-scale hand drawings, collages and models, from eight realized or ongoing international projects. Will take place on Aedes architecture forum in Berlin until June 29, the exhibition shows ways of harmonious coming together and living together as well as the strong connection between public and private space.
After the opening at the exhibition site design boom spoke with us the Mexican architect to learn more about the studio's approach to each project and the importance of the tools they use during the design process. "Some people say Tatiana bans renders. No, it's not that I'm against this medium, I just think it limits the creative process and we don't want that at this early stage." — Read the interview in full below.
Image © Volker Renner
full header image © designboom
"How do we want to build, live, reside and work together?"
Through this exhibition, the Tatiana Bilbao Estudio (see more here) shows eight exemplary projects as a reference for their practice, including the design means and materials they used. The exhibition hall is covered with large-scale models in concrete, rammed earth, wood or brick and lavish, meticulously hand-designed drawings interwoven with vivid collages. Each collage presents a living story that aims to create a dialogue with the audience. Free from realistic representations, "En común" breaks the rigid boundaries of rendering and looks for different forms of communication and thus life.
"A city unites an infinite number of cities, each of which is shaped by its inhabitants and the spaces created in it. Every sidewalk, every street lamp, every building defines the city. In this respect, every moment of encounter and togetherness shapes the city. It can be in the park, at the market, in a laundry or at school." commented Tatiana Bilbao and Ayesha S. Gosh – Architect at Tatiana Bilbao Estudio.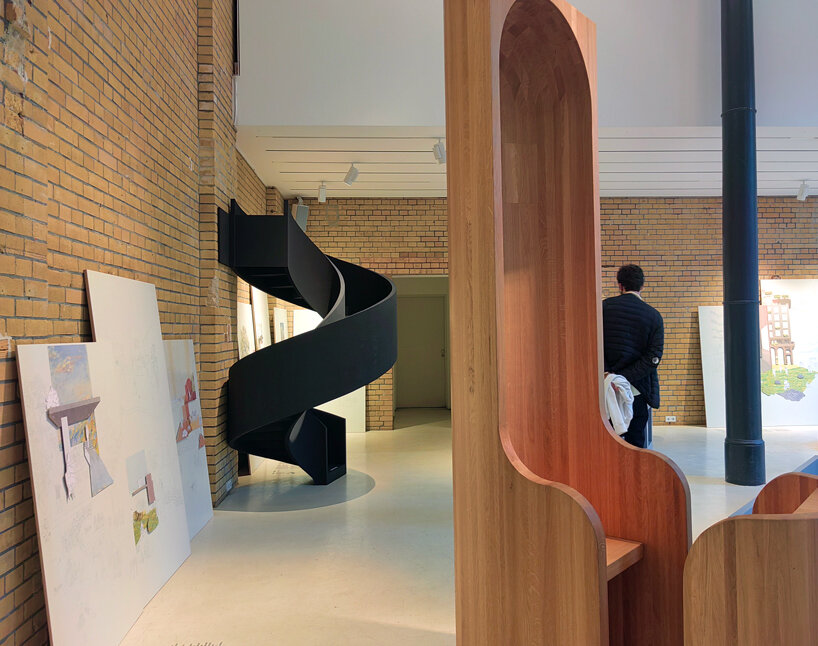 Image © designboom
Interview with Tatyana Bilbao
DB: Previously we have had the pleasure of observing a wide range of your work, including sketches, collages and 3D models. What do you think and hope that the audience will take away from the En Comun exhibition?
TB: I want the exhibition to open doors to any kind of conversation. I believe that things that aren't as explicit in their presentation create more opportunities to discuss different points of view and different interpretations that really take a more personal direction. I think and hope that this is the case so that people can find variations in their feelings, their thoughts and the way they perceive what they see and therefore the world.
DB: If you look back over the years, you have actively provided architectural solutions. Is there a project or a special moment that you are particularly proud of?
TB: One of the works that stands out for me is the Botanical Garden in Culiacan. In 17 years of continuous work on this project we have gained a great deal of knowledge about the ethos and history of the garden. This has helped us shape our philosophy in the office, but also vice versa. We have embedded our principles in this place. It's a project that's almost symbiotically linked to our career. Another turning point in the studio's career was the moment Father Killian invited us to work with the community of Cistercian monks – a project that has been going on for five years. It really gave me the opportunity to look at architecture in a completely different way. It's not just a life project, it's a project that will surely change my life.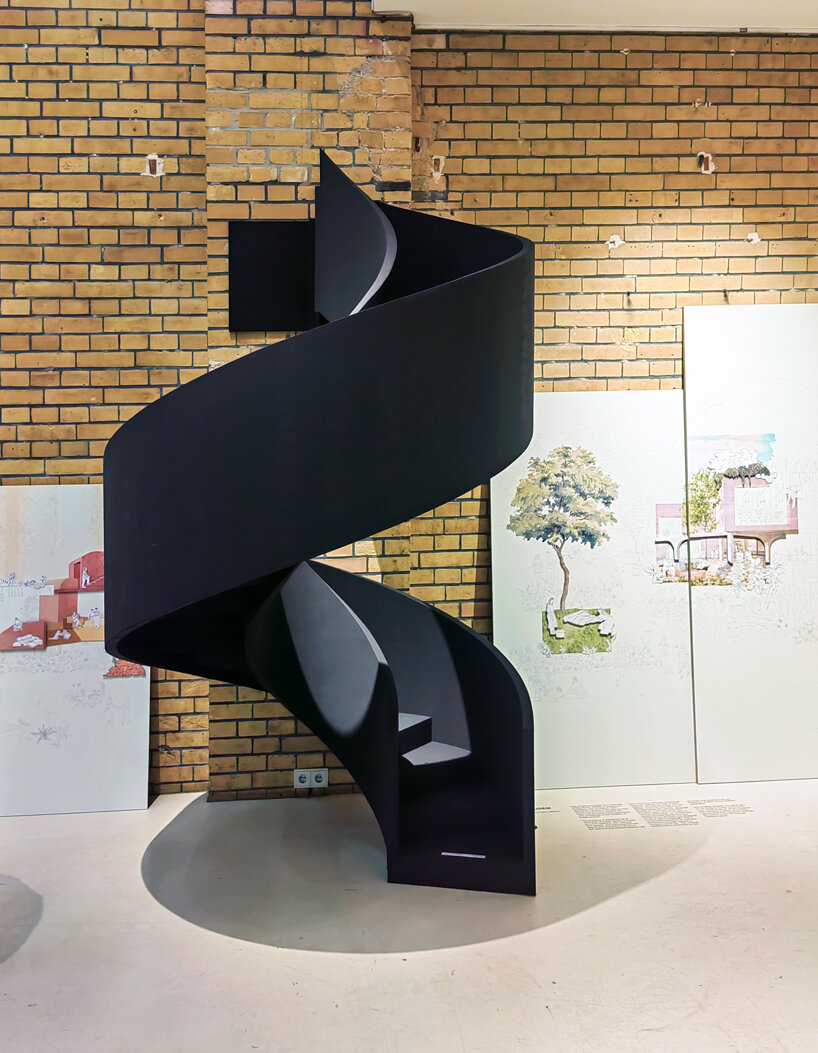 Image © designboom
DB: What aspects of your background and upbringing shaped your design philosophies and principles?
TB: I think many! First of all, I grew up in a family of people who live for their ideals. Both my father and my mother come from very strong-willed families. My father's family is actually from Spain. They were part of a movement to create a democratic government that was then wiped out by Franco's dictatorship. They were war refugees and had to emigrate to Mexico. That's why I'm Mexican. My mother's side is actually from Germany. They were both migrants to Mexico, but both believed very strongly in their efforts. That totally shaped me and my principles. I spent my childhood abroad with a true aspiration to be very congruent with my ideals and my thoughts, I never give them up.
DB: How does a project develop in your team from idea to implementation?
TB: Each project is very different and responds to a very specific place, context and group of people. For us, each project has to deal with its own place, with its own imperatives and a combination of factors that change every time. For example, we carried out a residential project with compact size requirements and a small budget. So the whole process revolved around that assignment. Another house we worked on was designed around the idea of ​​creating a place where its inhabitants really live in the forest, but not with the forest. They weren't nature lovers, which eventually changed. Every project is unique and has a completely different drive.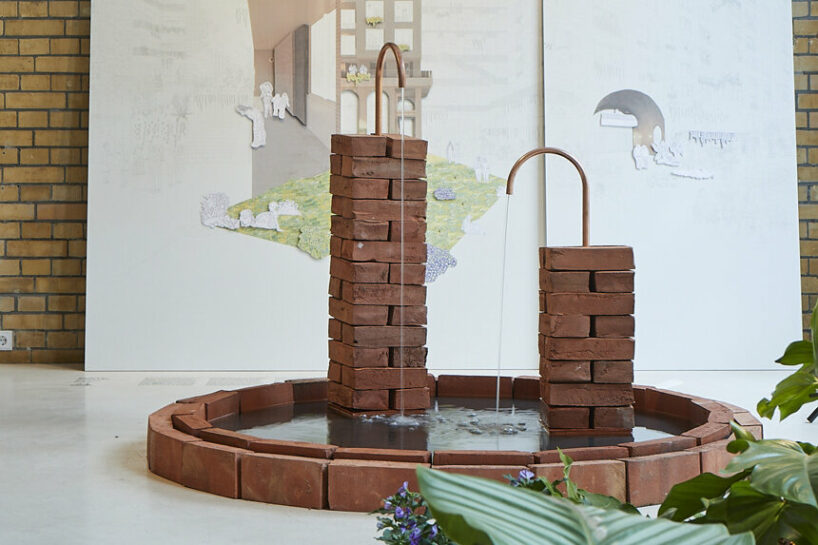 Image © Volker Renner
DB: How important are the collages and 3D modeling during the process?
TB: I was always very skeptical about the way I was taught to do architecture in every aspect. At first I was very unsure of my creative abilities. When you leave school you should know what architecture is and how to do architecture. In search of this and because of my insecurities I worked with other architects and colleagues as I thought I couldn't do it alone but maybe someone else could. What I realized afterward was that I felt a lot more than insecure about the idea of ​​someone designing someone else's home.
The drawings show how people live, how the furniture is housed and how it should be used. I think that the idea of ​​what an architect is is very much committed to a very colonial idea of ​​producing the same thing that the drawings do, because the drawings are an impertinence, the drawings really create subjectivity, they design, like one person should live. I really believed that realistic representations limit the creative process, both in the office and much more in communication with the person who will inhabit the place. So I looked for other methods of developing a project and thus for other ways of presenting our ideas. During these years we have experimented a lot with different media. Not only is it collage, we have also played with a wide range of materials and techniques, from oil paintings, textiles and clay to theatrical performances. We are constantly striving to uncover different ways of communication and, above all, to open channels for communication with others.
DB: But do you also work on 3D renderings?
TB: Yes, we use them as design tools. Some people say Tatiana bans renderings. No, I'm not against it, I think they're really detrimental to the creative process of the project. But sometimes there are tools that make other things possible. We don't use them during the creative process as we recognized that they set an agenda. And we don't want that at this early stage. However, sometimes they are necessary and useful as part of the representation, so we use them. It's not that we've banned them, but we're concerned about their use case and the limitations that turn a tool into an obstacle.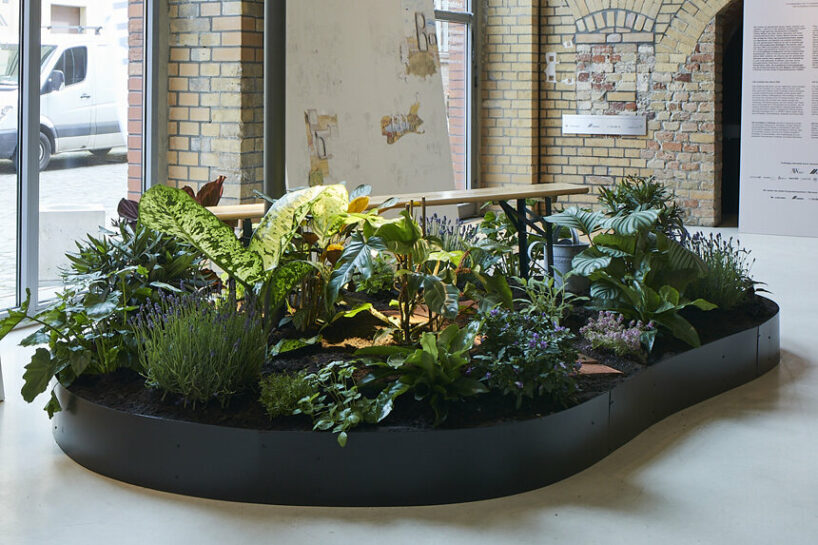 Image © Volker Renner
DB: Outside of architecture, what interests you at the moment, that also influences your design.
TB: It's very difficult for me to answer because I don't think I'm working as an architect, I'm an architect. So how can I become a different person? I'm an architect and my whole life revolves around me being that person. One of my definitions is also being a mother. I'm always a mom to be here, to sit here, or to be with my kids. I'll always be a mom because I'm a mom, right? The same applies to my role as an architect. I can't get away from that. I think my life revolves around these roles. So my biggest passion for doing architecture and being who I am is meeting people, talking to them, listening to them and understanding their origins and preferences. I love hearing and engaging with their stories, it fills me with joy.
DB: If you had to give young architects one piece of advice, what would it be?
TB: If I were asked this question a few years ago, I would be very pragmatic. I would say never do anything that would undermine your ethics, especially for money. Money, things and opportunities come and go. But if you go against your principles and your ethics, you're left with nothing. Well, my advice is to question everything. We grew up teaching what is right and wrong. Sometimes we even have to doubt things we thought we were sure about. It's important to question and affirm or evolve in the transition.